Hello: Recently we enjoyed a very pleasant visit to your web site! It is with great pride that we announce that your web site is a WINNER of our esteemed Majon Web Select "SEAL OF EXCELLENCE AWARD."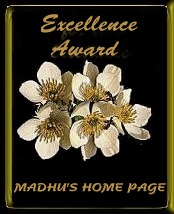 You've done a terrific job! I loved my visit to your site and the recipes look delicious! Attached is my personalized award for your site...let me know when you have it on your site and I will add you to my page of winners!*S*








Your "Madhu's Recipes" web site has been chosen to receive Award Net's "Fren Award". This is in recognition of the countless hours of hard work you've spent developing your web site. Though this award can't make up for the frustration that often accompanies web site development, we hope you will except this small token, as reward, for a job well done.
From all of us at Award Net, again, "CONGRATULATIONS", "Great Web Site".



You have a great site! You have won "The Network Maestro Homemaker Award". We give this award to those few sites which are a real help to homemakers in all walks of life.




Congratulations!!......Your site definitely qualifies for the "Critical Mass Award". A very nice site, good design, clever graphics, and your content is informative, entertaining, presented well and easy to access. A worthy enterprise and a positive contribution to the Web. Cheers,...Bill Darling



CONGRATULATIONS Winning our Award is not easy - our criteria is often difficult to meet but your success shows that, above all else, you have created a website that has quantity, quality and feeling. I therefore present you with our 'Otakou Creative Design Award'. Your web site was thoroughly reviewed/critiqued prior to granting of the Award. I am pleased to report your web site has received a rating of "Excellent". Well done!!



CONGRATULATIONS! Your web site hhas won B & P Recipe Club Award. Keep it UP!!



CONGRATULATIONS! WEBMASTER Your web site has won the StarSaber's Award.